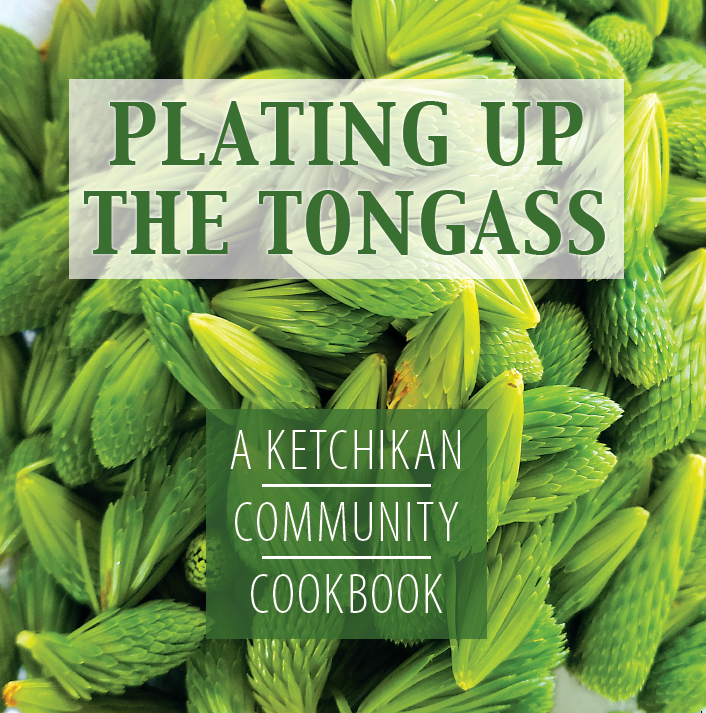 Be part of this community endeavor!
We are excited to be collecting recipes, stories, and activities for the newest Plating Up the Tongass Community Cookbook!
The first volume of the cookbook featured over 50 delicious recipes that showcased the abundant food found in Southeast Alaska. Enhanced by personal stories, memories, and reflections the cookbook came to life and demonstrated the deep connection the people of this community have to food and to the land.
Now it's your turn to be part of the next book! Do you have a recipe that friends and family rave about? Do you use a local ingredient in a unique way? Do you have a fun game or activity that you would share with all the littles in our community so they can discover a love for the land and the abundance we can find?
We would love for you to share your recipe!
We would like to include recipes that can be made by children 10 and under so we can support their connection to the land that sustains them, and learn valuable life skills.
Have you used ingredients found in Southeast Alaska for a recipe from around the world?! We'd love to feature these fusion recipes in their own special section to acknowledge and celebrate the diversity that we have in our community.
Did you play a game as a child or do you teach a game to your children/grandchildren that ties into the food sources of the land?
Share a game or an activity that incorporates harvesting food or exploring our beautiful backyard. We aim to encourage children (of all ages) to get outside and have fun!
Local Ingredient Suggestions
Black seaweed
Herring eggs
Cloud berries
Wild strawberry
Geoduck
Halibut/halibut cheeks
Devils club
Spruce tips
Sea lettuce
Salmon
Bull kelp
Candlefish/ooligan grease
Sea urchin
Algae
Sea asparagus
Squid
Eel
Abalone
Fireweek
Blueberry
Hudson Bay/Labrador tea
Dungeness crab
Old man's beard
Venison
Bear
Sugar kelp
Fiddlehead Fern
Dandelion
Chicken of the woods
Chanterelle
Spot Prawns
Fish offal (organs)
and more….
BUY Plating Up the Tongass
This is the heading
Lorem ipsum dolor sit amet consectetur adipiscing elit dolor